Hello warm weather! Today I'm sharing the ultimate summer drink, the Pineapple Rum Slushie! This has been my go-to drink lately as it tastes like a pina colada but with a lot less calories! And even better, you will only need 3 ingredients and a couple of minutes to make this tasty tropical drink, hooray!
If you are looking for the perfect summer drink to enjoy with friends or just to kick back on your deck on a hot day, I got your back! Today I'm sharing one of my most favorite summery-y drinks that has been a must-make lately with all our beautiful warm weather. I brought this slushie to a girls get-together with some good friends not too long ago and it was a total hit and gone in an instant!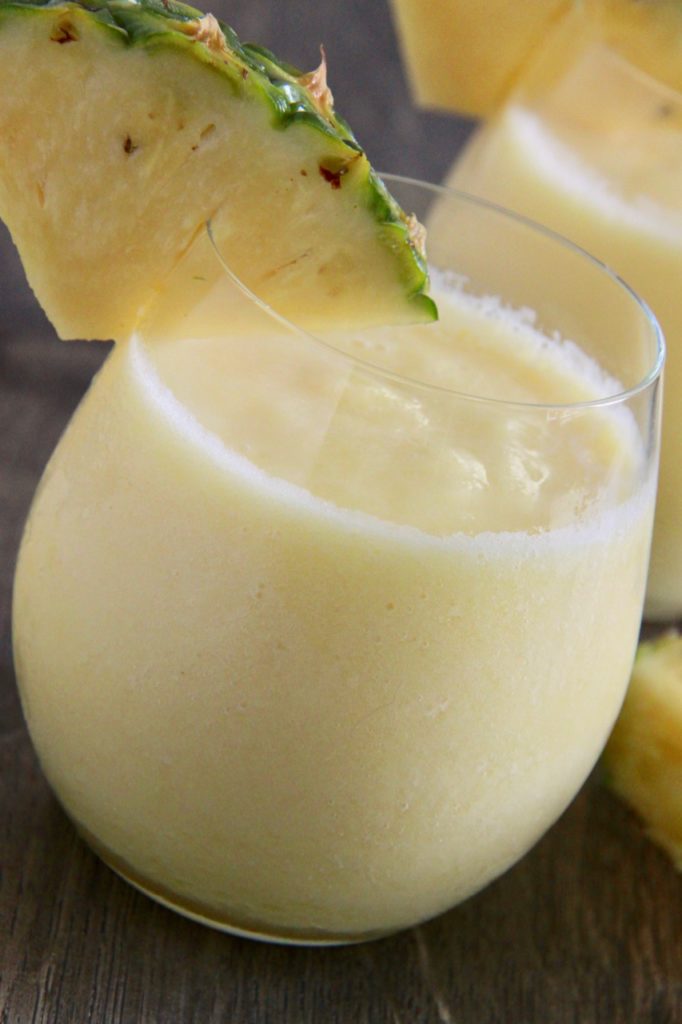 I love the whole pineapple and coconut combination of a pina colada (you can check out my Pina Colada and Virgin Pina Colada recipe here!) but I don't always love how filling drinking one is especially if you plan on being out in the sun all day. So this slushie version of the pina colada just had to be created! (affiliate links present)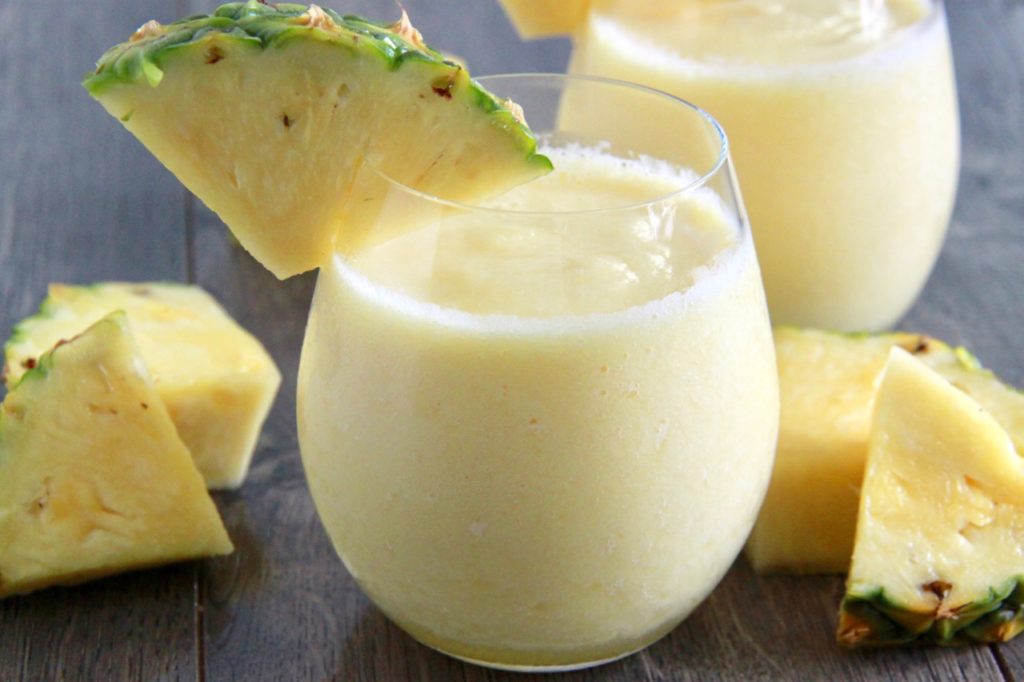 To make this refreshing and delicious drink you will need fresh or frozen pineapple chunks. If it is super hot out, I suggest using frozen as you won't need to use ice and your slushie will be nice and um, slushy! Also, try to use a non-sugar added frozen pineapple…no need for the extra sweetener in my opinion!
You will also need some coconut flavored rum, I personally love Malibu, it's delish and soooo tropical tasting!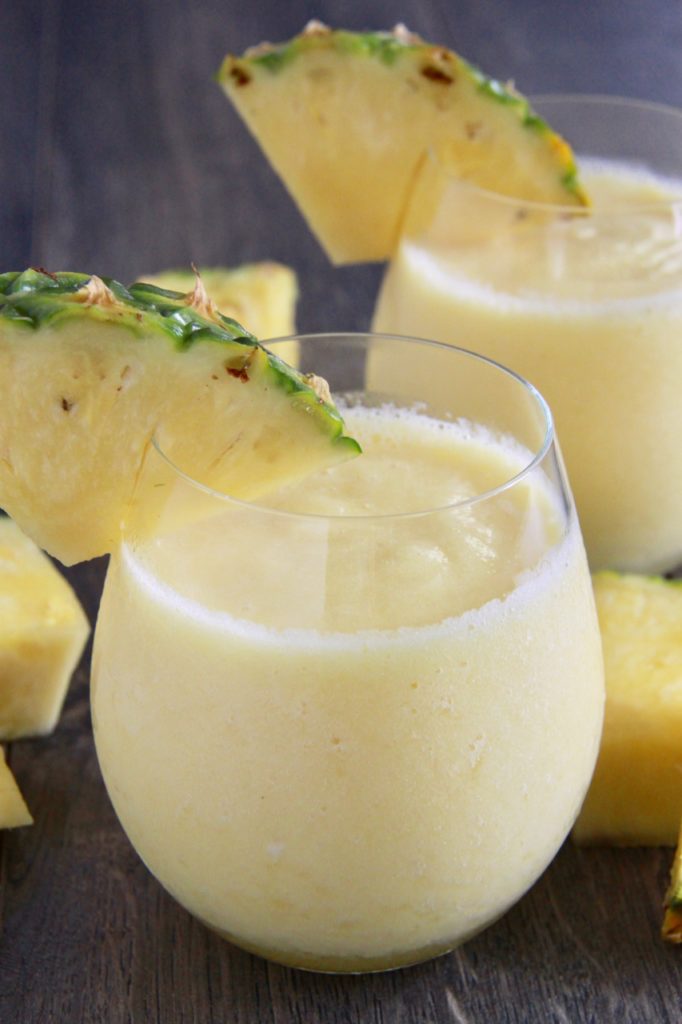 And you will most definitely need a good blender to blend those frozen chunks of pineapple into a slush consistency. We have this Vitamix and we love it. I know they are pricy but they are totally worth it in my opinion, they can do so much more than a standard blender and so much faster too! My only regret is that we didn't buy one earlier!

Pineapple Rum Slushie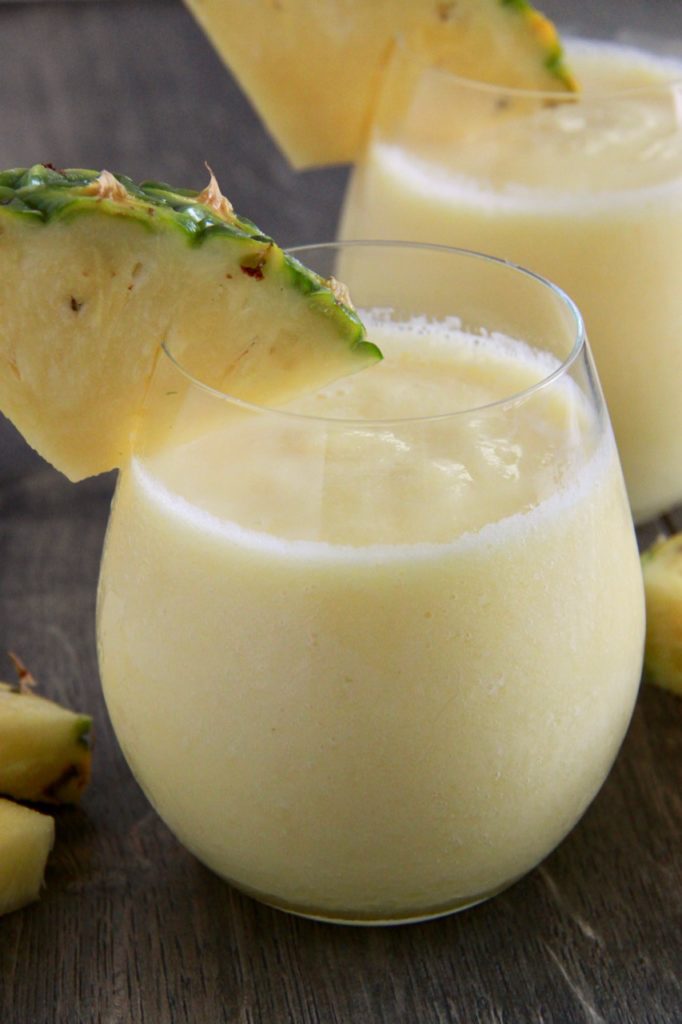 This recipe makes two very generous glasses of slushie or four more realistic servings…it all depends on how you are feeling and how hot it is outside, amiright??
**Also, a side note: the liquid ingredients amounts in this recipe are very interchangeable! You can increase the alcohol in the slushie by decreasing the cold water, depending on how much you want to feel it, lol…or depending on how much of the coconut-flavored malibu you want to come through, for example:
1/2 cup malibu to 1 cup cold water
1 cup malibu to 1/2 cup cold water
1 1/2 cup malibu to 0 cups water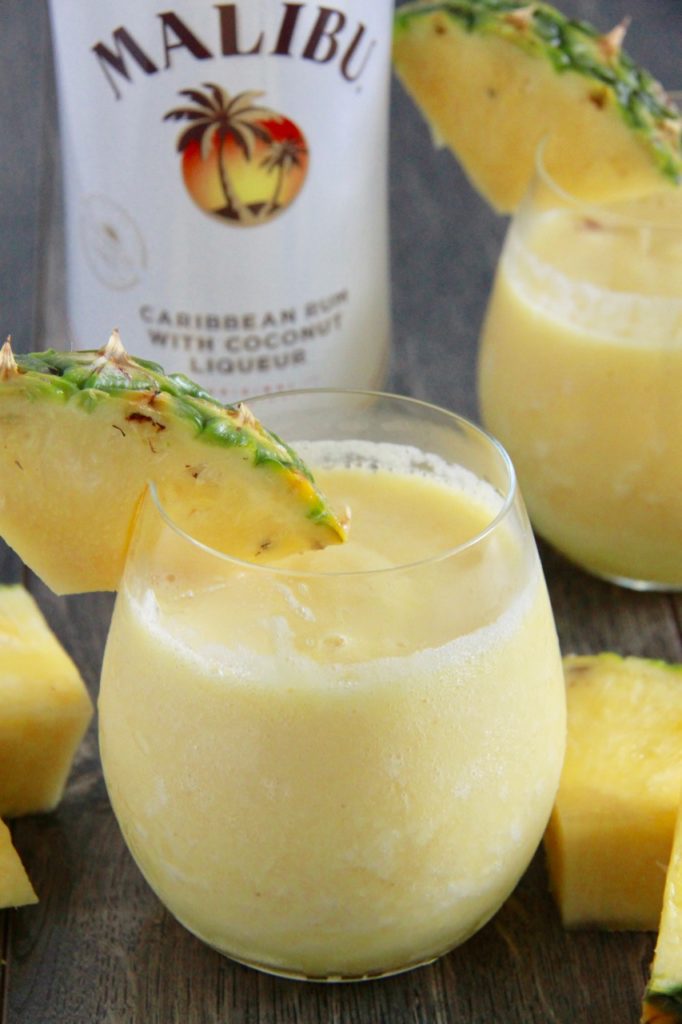 The Ultimate Pineapple Rum Slushie