This Cowboy Quesadilla is loaded up with a BBQ Chicken, a black bean Texas caviar and lots of fresh off the block, melty cheese! Perfect for dinner time, this dish will please the whole family!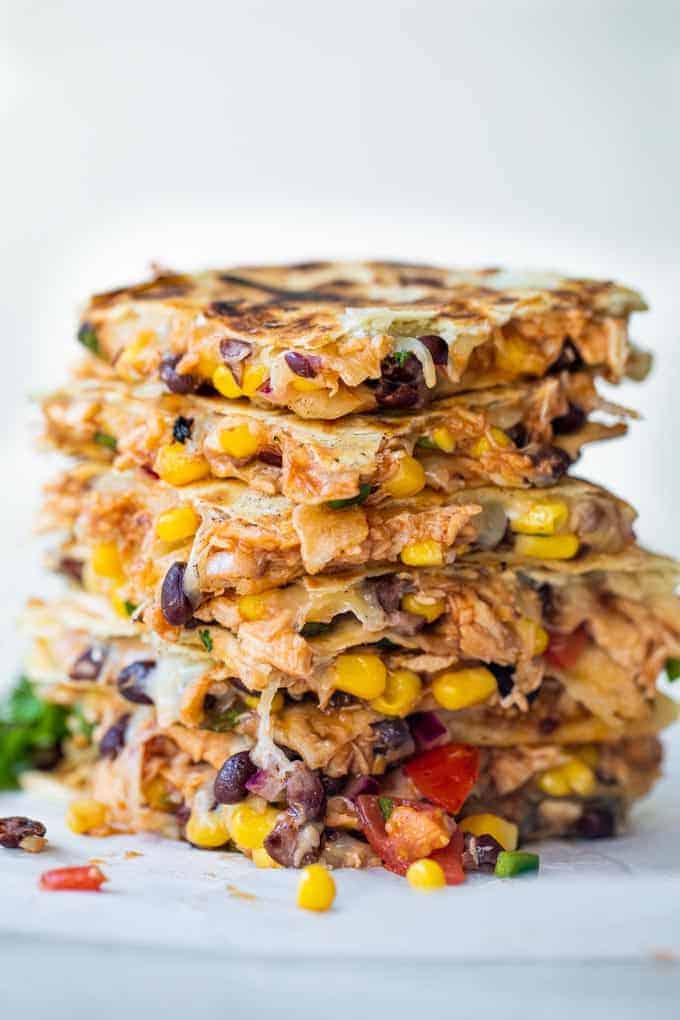 Cowboy Quesadillas. A little bit Tex Mex, a little bit BBQ. A lot of delicious flavor.  These quesadillas are loaded up with juicy BBQ chicken, a zesty black bean Texas Caviar.  And lots of melty cheese. The mash up of flavors in these quesadillas make them fun and flavorful. These are quick and easy to make, perfect for family dinner, or game day snacks! 
HOW TO MAKE COWBOY QUESADILLAS:
Prepare the ingredients: shred the chicken and coat it with your favorite BBQ sauce.
Make the Texas Caviar by combining all of the ingredients and stirring together.
Heat a flour tortilla on a large skillet, add the shredded cheese, BBQ chicken and Texas Caviar on top. Add another tortilla on top.
When the tortilla on the bottom is crisp and golden, carefully flip over to cook the other side.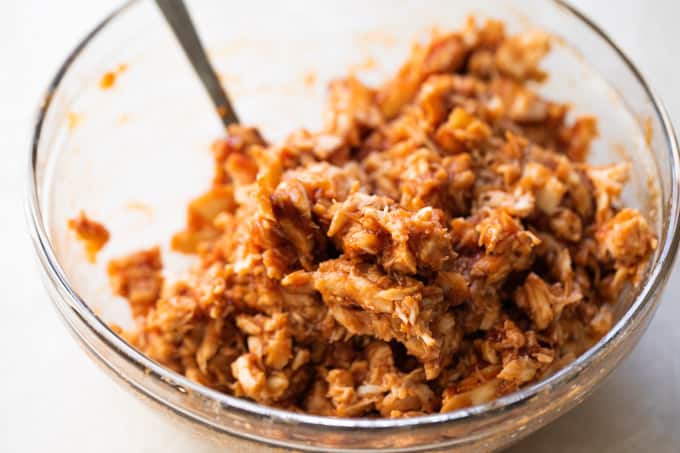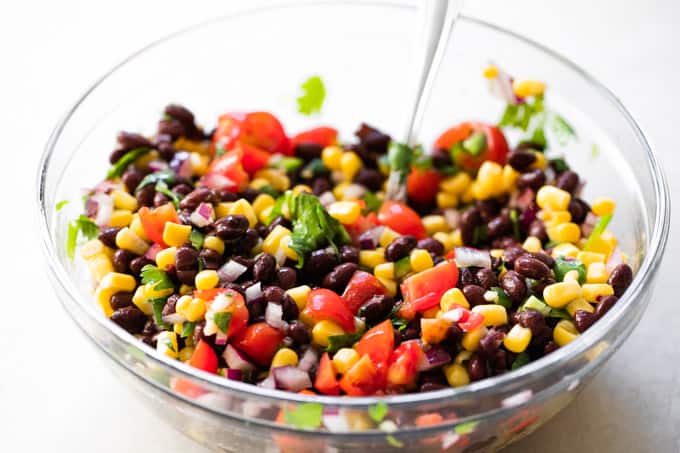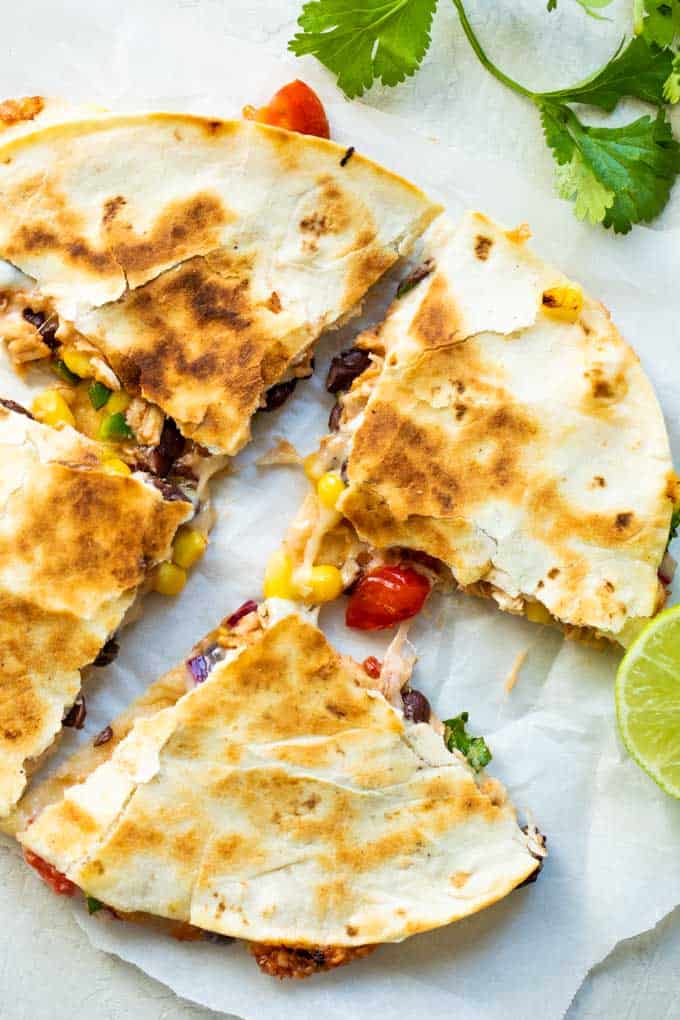 INGREDIENTS NEEDED:
Shredded Chicken: you can either cook and shred your own chicken, or save time and get a rotisserie chicken!
BBQ Sauce: use your favorite.
Black Bean Texas Caviar: I always make my own Texas caviar. For using inside of the quesadilla, I left out the avocado from this version. What you'll need is black beans, whole kernel corn, jalapeno, garlic, cilantro, lime juice, olive oil, and white wine vinegar.
Cheese: my favorite to use is Monterey Jack. You could use a mild cheddar, pepper jack, or other type of cheese if you prefer.;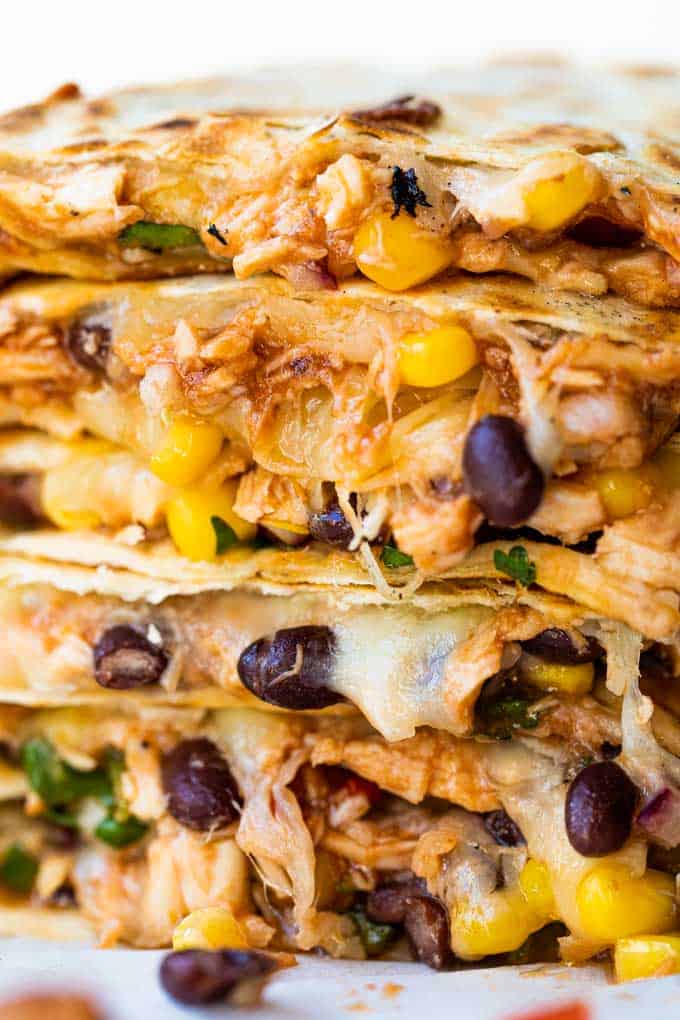 FOR BEST RESULTS!
These quesadillas are best eaten fresh! The tortillas will get soggy if they are stored in the refrigerator for more than several hours. These can be made and served on a plate for a party, they will hold up just fine.
If preparing ahead of time, prepare the Texas Caviar and the chicken, store in separate bowls in the refrigerator. Then assemble and cook just before serving.