Cheesy Breakfast Enchiladas. Breakfast enchiladas loaded with soft scrambled eggs, spicy sausage, melty cheese. All covered with a queso enchilada sauce and baked. These breakfast enchiladas are sure to please the hungriest crowds this holiday season!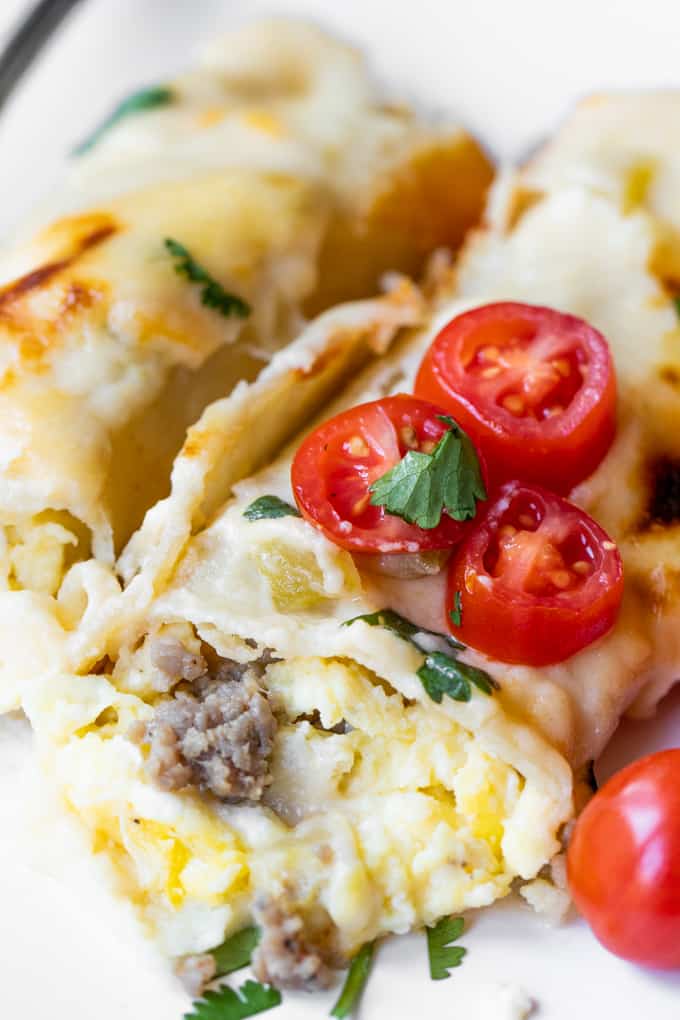 I am an official ambassador for Borden® Cheese who provided me with compensation for my time. As always, all opinions expressed in this post are mine.  Thanks for continuing to support the brands that support House of Yumm <3
This holiday season, there is no ingredient more creamy and delicious for your family's favorite holiday recipes than Borden®️ Cheese! And there is nothing better than filling your kitchen with the smell of a homemade breakfast. These enchiladas are a great way to switch up your holiday breakfast spread. Plus, they are easy to make!
For these Cheesy Breakfast Enchiladas I used Borden®️ Cheese Thick Cut Shreds for extra cheesy goodness- it melts so well! The wider shreds are also ideal for use inside the enchiladas thanks to the extra creamy coverage.
Borden®️ Cheese Shreds come in family-favorite flavors including: Sharp Cheddar, Mild Cheddar, Mozzarella and Four Cheese Mexican. I LOVE using the Four Cheese Mexican mix for these enchiladas to add a wide variety of flavor to the recipe. With guaranteed cheesy goodness in every bite, each serving of Borden®️ Cheese Shreds is a good source of calcium and contains 6-7 grams of protein – an added bonus for the kiddos!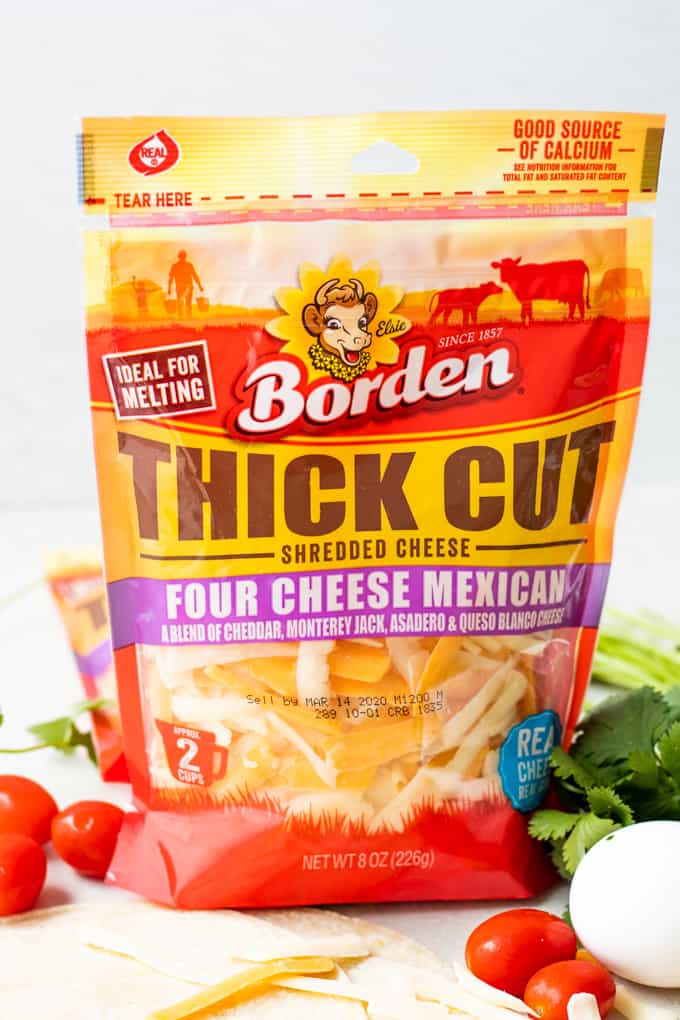 Whether you enjoy gathering in the kitchen to bake up a recipe or your favorite part of the holidays is sitting around the table with friends and family, Borden® Cheese is the perfect addition to any occasion during this heartwarming season!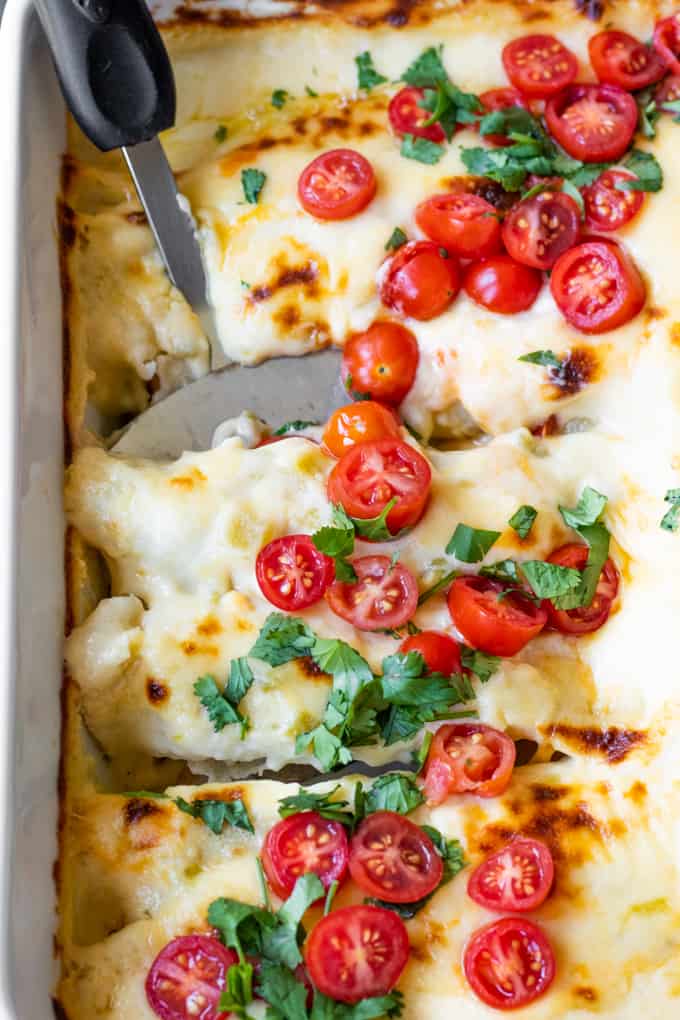 How to make Breakfast Enchiladas
Make the filling: for these breakfast enchiladas I love going with a basic scrambled egg, protein and cheese. For this batch I used ground sausage. But you could easily use a turkey sausage or crumbled bacon. And of course, don't forget the Borden®️ Cheese!
Prepare the Sauce: make the cheese sauce that is going to be poured over the top. Keep the cheese sauce warm on low heat while following the next steps.
Fry the tortillas: pour a small amount of oil into a skillet and give the corn tortillas a brief frying, just a few seconds on each side. We don't want crunchy tortillas from cooking them longer. The reason for frying the tortillas is to warm them, making them easy to fill and roll without breaking. It also helps create a barrier so that the tortillas don't soak up all the sauce. This is a step I do with any type of enchilada I am making. Fill the tortillas. Only use a small amount of each ingredient. You don't want to overstuff the tortillas they will become too difficult to roll.
HOW TO MAKE QUESO ENCHILADA SAUCE:
This cheese sauce is very similar to how I make queso. 
Melt butter over medium heat. Whisk in the flour and seasonings.
Pour in the milk and cook while stirring until the mixture is thick.
Remove from the heat and add in the cheese. Stir while the cheese melts. Stir in the diced green chiles.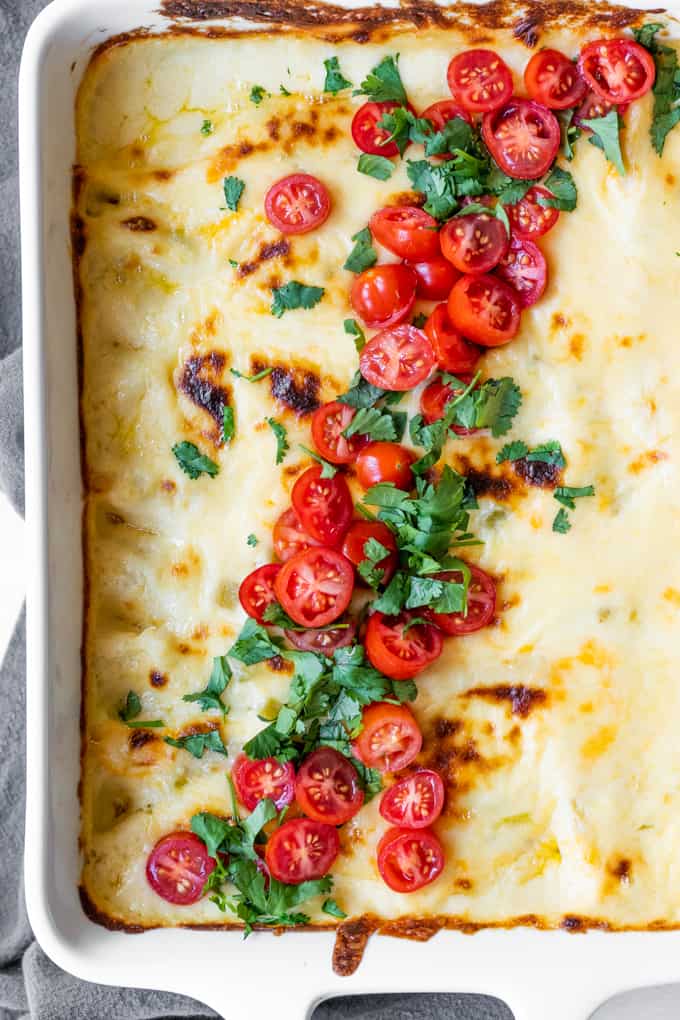 CAN I MAKE THIS BREAKFAST ENCHILADA RECIPE AHEAD OF TIME?
Yes! You can make this breakfast enchilada recipe ahead of time. I recommend preparing the enchilada filling and the tortillas the day before, if needed. Simply get the tortillas filled and placed in the baking dish. Cover and store in the refrigerator overnight.
However, I recommend making the sauce just before pouring over the top of the enchiladas. Due to the type of cheese sauce we're making, storing it overnight in the refrigerator can cause the sauce to break and not reheat as nicely.
More Cheesy Recipes to Enjoy:
Pimento Cheese Pinwheels
Best Ever Cheese Enchiladas
Southern Cheesy Grits
INSTRUCTIONS
Prepare the enchilada filling.

Preheat oven to 350℉ degrees.

In a large skillet melt the butter over medium heat.

Whisk in the flour and add seasonings (salt, garlic powder, onion powder).

Cook the flour mixture for 2-3 minutes.

Whisk in the milk and continue whisking until mixture is smooth. Cook over medium heat while stirring until mixture thickens, 5-7 minutes.

Remove the sauce from the heat. Add in the Borden®️ Cheese Four Cheese Mexican Thick Cut Shreds and diced green chiles. Stir while the cheese melts.

Turn heat to low and let the sauce keep warm while preparing the enchiladas.

Heat oil in a medium size skillet. Oil should sizzle when a tortilla is added.

Add the tortillas one at a time and cook for 15-20 seconds per side. Remove from the oil and place in on a paper towel lined plate. Continue until all tortillas have been briefly fried.

Spoon about 1/2 a cup of the cheese sauce to a baking dish, spread around to coat the bottom of the dish.

Spoon a small amount of scrambled egg, ground sausage and Borden®️ Cheese Four Cheese Mexican Cheese Thick Cut Shreds to the tortillas. Carefully roll and place in a baking dish, seam side down on top of the cheese sauce.

Continue until all tortillas have been filled/and baking dish is filled.

Pour the remaining cheese sauce on top of the enchiladas. Top with any additional shredded cheese that may be left.

Bake for 10 minutes until cheese sauce is bubbling.

Turn on broiler and broil the enchiladas for 2-3 minutes until the cheese is browned on top.

Remove from oven, allow to cool briefly and then serve warm.

Top with diced tomato and cilantro if desired.
CHEESY BREAKFAST ENCHILADAS